What do you think of Heidi Klum's new haircut?

The Trend: A trendy new haircut!
I have been toying with the idea of cutting off my long locks and sporting a new, shorter haircut….and I think I have newfound inspiration! Momma Heidi Klum looks amazingly chic in her new bob (I don't know about you, but I am incredibly jealous). She looks great!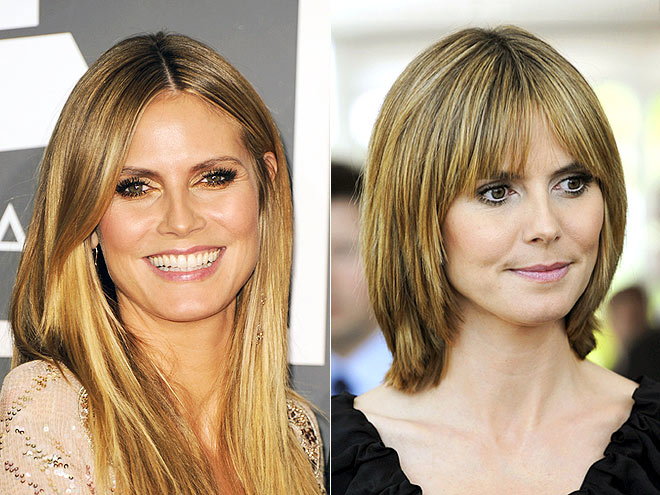 Gorgeous transition from long to short.
The Things I Love About Short Hair:
1) It's so much easier to manage. I mean, seriously? How annoying is long hair when there's an irritatingly difficult knot in the back of your head, the kids are whining and hungry, and you have fifteen minutes until you're late for work? Short hair takes care of that! No knots (or considerably less of them) and your hair looks beautiful and styled (even if you secretly just woke up!) No fuss, no hassle, no stress: perfect.
2) Anyone want a slimmer body? Short hair creates the illusion of being taller and slimmer. I don't know about you all, but taller and slimmer sounds like the perfect combination for the upcoming swimsuit season.
3) You look more distinguished. Short hair just makes you look distinguished (and extra confidant). Here's a fun fact: short hair makes you look younger, not older. I've seen many women with long, long, extra long hair (and then a track suit to mimic their daughter's clothing…) and it just ages them. Rapunzel may be a fairytale we read to our daughter's at night, but personally? I'd rather a guy knock on my door, instead of climb up my hair.
So cut the locks! I think I will (it's spring, it's warm, and the sun is out!)
* Trend Sound Off: Do you think you'll try a new bob this spring? Let me know!
If you are obsessed with the latest style trends (the good, the bad and the just plain ugly), Kassandra Pae looks at Hollywood hangers with a (perfectly accessorized) microscope. To submit your own questions, comments and suggestions, please contact Kassandra at info@makeovermomma.com.
Credit: © People

Makeover Mommaâ"¢ occasionally receives cosmetic products for review, with no obligation to positively promote or cover said brand. Receiving products has absolutely no influence over our recommendation of any particular product.